When the Calcurates WooCommerce plugin is installed and synchronized with the website, you can proceed to its configuration.

How to Add Calcurates Shipping Method

To add Calcurates as a shipping method and start delivering through the service, please, go to WooCommerce —> Settings —> Shipping.

Click the Add shipping zone button.

Set a zone name and define zone regions.


It is recommended to set Calcurates shipping method to the worldwide zone and control shipping by zones in Calcurates using Shipping Areas functionality.

Click Add shipping method and choose 'Calcurates Shipping Method' from the list. Then, click the Add shipping method button.


Now, you can click Save changes and proceed further shipping configuration within Calcurates interface.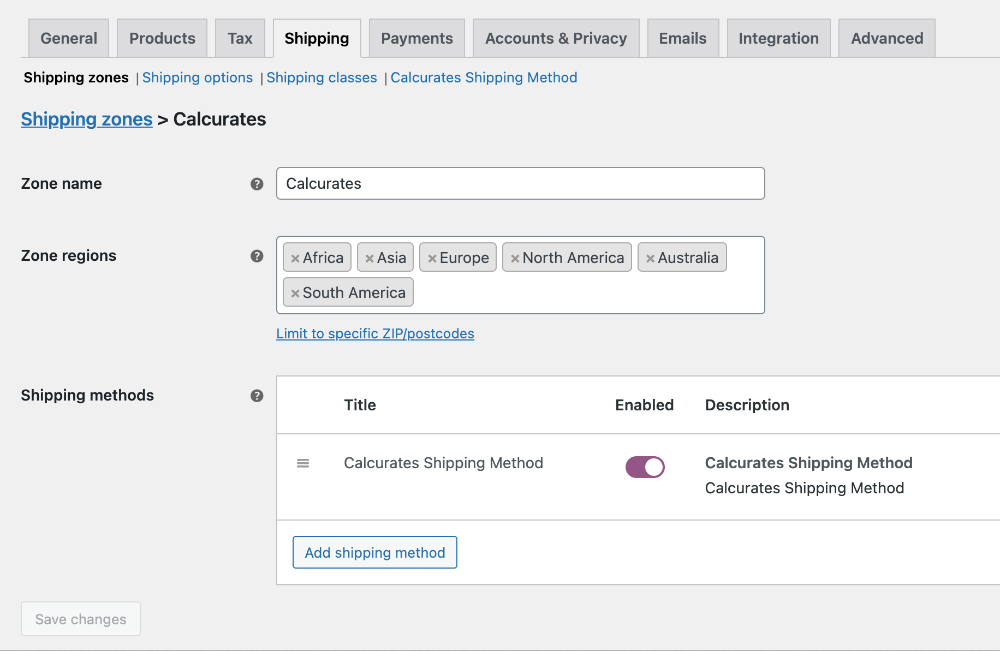 Calcurates Plugin Configuration

To see the available Calcurates plugin settings, please, go to WooCommerce —> Settings —> Shipping —> Calcurates Shipping Method.

Here, you can decide how to display rates
on the frontend for the shipping methods served via Calcurates.

The Display rates with tax & duties option have 3 available values:

Duties & tax included




Without duties & tax




Both



Please, select the one that suits your needs and click the Save changes button.