How to set up the Simple Rates App for Shopify

Simple Rates App for Shopify, an app by Calcurates that will help you to set up accurate shipping rates and calculations at checkout quick and easy.
Third-party carrier-calculated shipping

Once you installed Calcurates app to your Shopify store and enter it you might see this warning message:

Third-party carrier-calculated shipping rates

The Calcurates app can't display shipping rates without this feature provided by Shopify.
Demo video

Settings

First of all check the currency and the weight unit in the "Settings" tab and make sure the app uses correct values. It takes them from your Shopify store settings, so you should change them there if needed.


Shipping Rates

General

In the "General" block you should set the shipping rate name and description. They both will be displayed at checkout. Use the same rate names to configure tiers or add rates together.
Use rate description to display explainer or estimated delivery time for the shipping rate.


Note, that it will be used for ALL rates with the same name.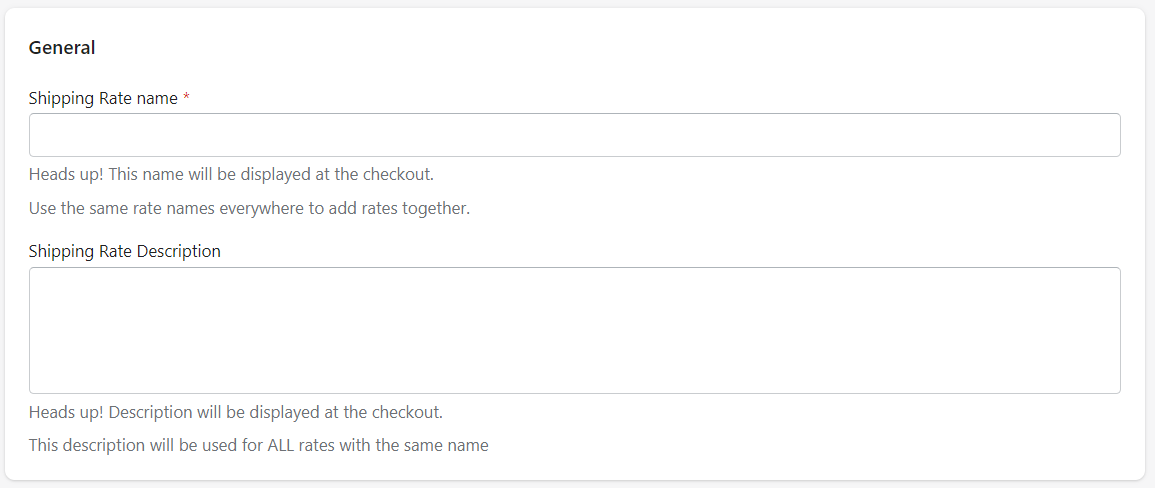 Conditions

In the "Conditions" block you should indicate the conditions under which rate is applied, such as subtotal, weight and quantity intervals as well as tags values.
You may create shipping rates with the same name but different conditions. It helps you to create tiers by weight, subtotal and quantity as well as to add rates together if they are addressed to different product groups split by tags.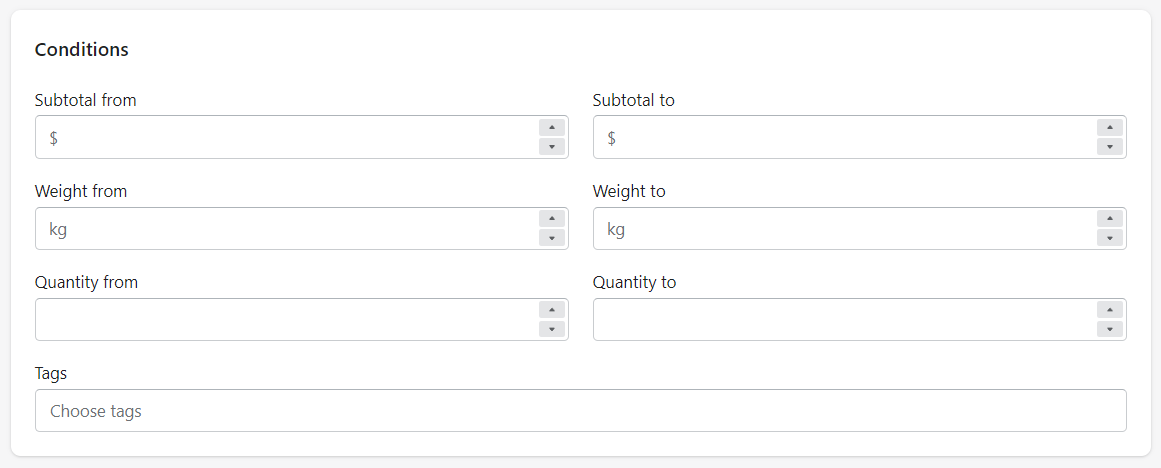 Calculation

The app supports 4 rate calculations:

fixed per order (FPO)

fixed per item (FPI)

fixed per unit of weight (FPUW)

percentage of order subtotal (POS).

Multiple calculations will be summed up.


If the rate is 0, it will be displayed as free shipping.

Example

Here we have configured 3 delivery options: Free Shipping, Standard and Express Delivery.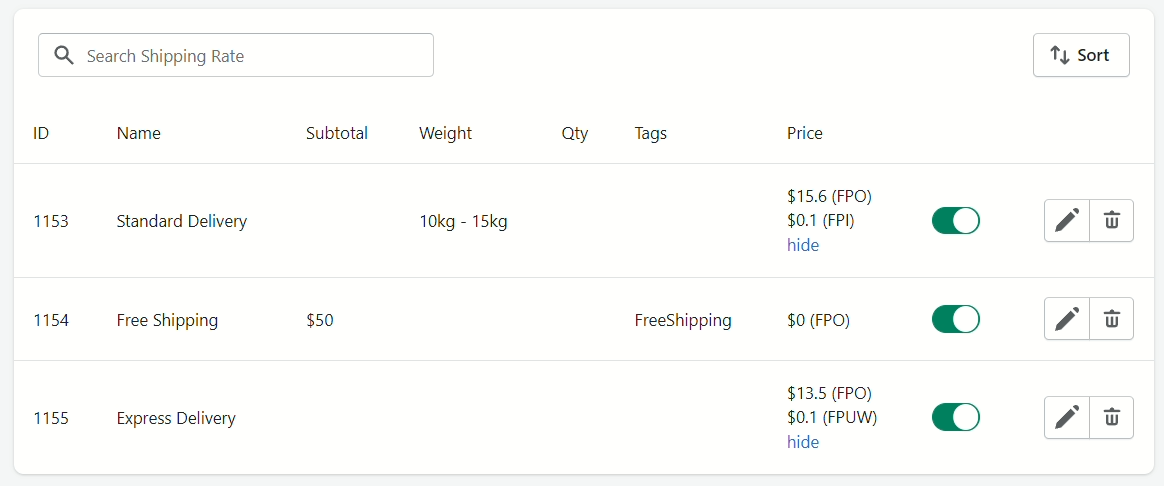 Free Shipping is applied only to products with the "Free Shipping" tag if their subtotal reaches $50.
Standard Delivery is applied to any product (no tags specified) with the fixed per order calculation.
Express Delivery also works for any product (no tags specified) and uses both fixed per order and fixed per unit of weight calculations. Those calculations will be summed up.


As free shipping is applied only to products with Free Shipping tag it will not be displayed if we add another type of product in the cart.

This is how those shipping methods are displayed at checkout.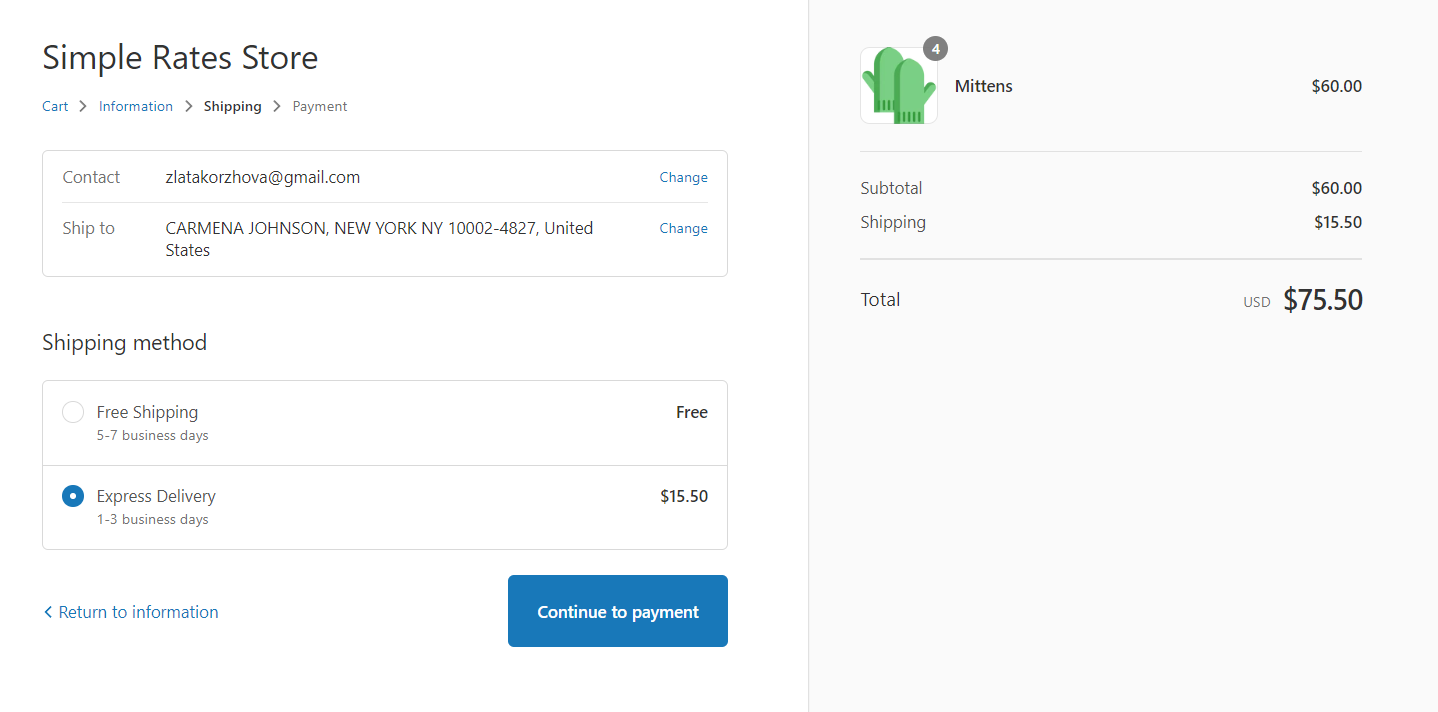 Billing

There are 3 billing plans available:

Light - $5.99/mo

Medium - $12.99/mo
Unlimited - $19.99/mo
All features are the same (Rates by tags, weight, quantity and subtotal; Multiple calculation algorithms), but the number of shipping rates is different across billing plans. The more shipping rates you use the more you pay.


Related Articles

How to enable a third-party shipping in Shopify?

In Shopify any app that provides calculated shipping rates is qualified as third-party carrier-calculated shipping. It doesn't matter if there are rates provided by the carrier (FedEx, UPS, USPS, etc) or custom made rates that you can configure with ...

Going live with Calcurates for Shopify

Ready to go Live with Calcurates for Shopify? Go through this check-list: 1) Make sure you have enabled Calcurates shipping methods for Shipping Zones in your Shopify admin: Settings > Shipping and delivery > Shipping > Manage > Shipping zones > ...

How to configure Calcurates WooCommerce plugin

When the Calcurates WooCommerce plugin is installed and synchronized with the website, you can proceed to its configuration. How to Add Calcurates Shipping Method To add Calcurates as a shipping method and start delivering through the service, ...

How to configure Calcurates Magento 2 module

After a successful installation of Calcurates module to your Magento, the configuration settings will appear in Magento config here: Stores > Configuration > Shipping Methods > Calcurates by Amasty. Note, updates regarding the availability of a new ...

How to update Calcurates Magento 2 extension

Update via composer Execute: cd path_to_magento composer update calcurates/module-magento Execute: php bin/magento setup:upgrade php bin/magento setup:di:compile php bin/magento setup:static-content:deploy Deploy with necessary language parameters - ...