How to add or edit an Origin
Video: How to Create and Configure an Origin in Calcurates


Origins Grid

To see Origins grid you should follow Menu > Origins.

There are 5 columns in the Origins grid:

Origin id.

Internal id of the origin



Created at.

Date when origin has been created



Name.

Origin name (editable)



Supported shipping options. The list of shipping options that serve this origin (editable)

Action.

Edit, Duplicate or Delete origin



Default Origin

By default, you have one origin already added to your Calcurates account.

You should edit it and change its details to your own ones:


Step 1 — General information

On step 1 you should add
origin name
(required) and
description
(optional).
Origin name
appears in your origins grid.

Step 2 — Location details

Origin location details can be added or changed on step 2:

Origin Country (required)

Origin State/Region (required)

Origin City (required)

Origin Zip/Postal Code (required)

Address Line 1 (required)

Address Line 2 (optional)

Address Type (required)

Contact Name (required)

Orders Email (optional)

Contact Phone Number (required)

Step 3 — Supported Shipping Options

As soon as you add your shipping options you will be able to select them on this step.

To make your shipping option available for the origin it needs to be selected in this dropdown. If your shipping option is unassigned from the origin it means it will be unavailable to it.

After you filled in all required fields you will be able to save your Origin.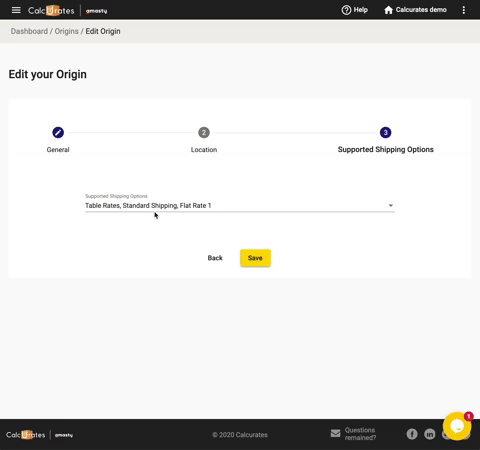 Related Articles

What is Origin

What is Origin Origin — the location where your products are shipped from to the customer's destination address. Types of Origin Warehouse or store — your own location where your products are stored and shipped from. Vendor (in case of dropshipping). ...

How Single-Origin Shipping works

Single-Origin Shipping means that you ship products from a single location and do not need to collect the order from multiple warehouses. That's why is pretty simple to configure single-origin shipping. Origins Grid and a New Origin Creation First, ...

Single- or Multi-Origin Shipping. What the Difference?

Calcurates provides you with the ability to set up both Single- and/or Multi-Origin shipping Single-Origin Shipping allows you to ship products from a single location. You can learn how to set up Single Origin Shipping here. Multi-Origin Shipping is ...

How Multi-Origin Shipping works

Please refer to this article: How Multi-Origin Shipping feature works